500-year-old Albrecht Dürer engraving found in French flea market
An art collector has donated a lost work by the German artist to a Stuttgart museum after discovering it in a French flea market being sold for just a few euros.
The copperplate engraving, Maria Crowned by an Angel, was made in 1520 and remained in very good condition, said Anette Frankenberger, an expert at the Staatsgalerie art museum.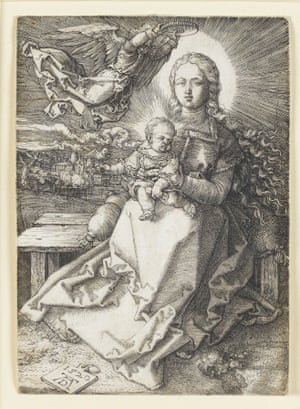 A retired French archaeologist noticed the work on a bric-a-brac stall in Sarrebourg, eastern France, after the seller cleared it out of a house in the town. He bought the piece and, after noticing the Staatsgalerie's stamp on the back, he decided to donate it anonymously.
The engraving had been missing since the end of the second world war and had probably been wrapped in paper for some of the intervening decades to preserve it, Frankenberger said.
It was owned by a former deputy mayor of Sarrebourg before ending up at the market, she added.
The museum has not decided how to display the engraving. "We have to find the right setting to present it in," Frankenberger said.
Dürer was born in 1471 in Nuremberg, southern Germany. He travelled through Italy in his 20s and quickly established a reputation as one of the greatest Renaissance artists.