Liquid Mercury Discovered Under Ancient Temple May Shed New Light On Teotihuacan
More than 10 years after it was discovered, a mysterious tunnel hidden under an ancient pyramid in central Mexico is giving up new secrets.
Archaeologists say they've found "large quantities" of mercury at the end of the 340-foot tunnel, which lies under the legendary Temple of the Feathered Serpent pyramid in the ancient city of Teotihuacan, some 30 miles northeast of Mexico City.
"It's something that completely surprised us," Sergio Gomez, the tunnel's excavation director, told Reuters, adding that his team does not yet know why the liquid metal was put there.
(Story continues below image).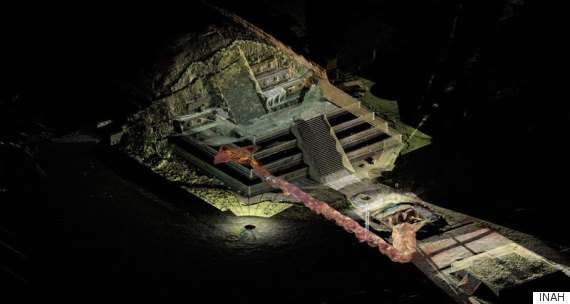 View of the tunnel with a laser scanner.
Mercury has been found at three archaeological sites in Central America, the Guardian reported. Archaeologists believe it may have had ritual significance, perhaps symbolizing some sort of river to the underworld.
"A few examples have been found in the Maya area, but it is very rare in ancient Mesoamerica," Dr. George Cowgill, an Arizona State University anthropologist and one of the world's leading experts on Teotihuacan, who was not involved in the discovery, told The Huffington Post in an email.
Gomez hopes the discovery will point the way to the final resting place of one of Teotihuacan's rulers. No such burial or ruler has ever been found — which has left archaeologists scratching their heads over how the prehistoric city was governed.
Previous excavations in the tunnel yielded tens of thousands of artifacts, including jewelry, stone sculptures, and arrowheads.
"It may slightly increase the odds of finding a royal tomb, but the uncertainty is what is exciting," Cowgill said in the email. "Right now it leaves us in a lot of suspense, and we await further developments eagerly."
At its peak between the 1st and 7th centuries A.D., Teotihuacan spanned roughly 14 square miles and had a population of more than 100,000. The ancient city was designated as a UNESCO World Heritage site in 1987.